Jump to what you're looking for quicker by clicking on the question below!
---
What is a meet n greet?
A meet n greet is an initial 20-30 minute meeting (free of charge!) that all new pet parents are required to schedule with us before we begin providing services to their pets. Meet n greets take place in the client's home, in which we send out a team leader to learn about you and your pet's needs in detail. This allows us to be fully equipped to deliver individualized peace of mind to each pet parent we work with.
Some questions we ask may include:
What's your pet's potty routine?
What's your pet's food routine?
What's your pet's walk routine?
Does your pet have any favorite toys?
Does your pet have any medical concerns?
To sign up for your FREE meet n greet, please click Get Started.
---
Are meet n greets free?
Meet n greets are free of charge for all NEW clients of Hands N Paws ONLY.
---
Can I request additional meet n greets in the future, after my first one?
You are welcome to schedule additional meet n greet(s) after your first FREE one, though, it's not totally necessary. As long as you keep your personal and pet information up to date and detailed at all times, you shouldn't have to schedule additional meet n greets. However, if you are insistent on having an additional meet n greet, please follow the steps below to schedule one:
Login

to your client account.
Go to the main menu and click

My Schedule

> Request Service.
Fill out the form and make sure to select Meet N Greet from the Service dropdown menu.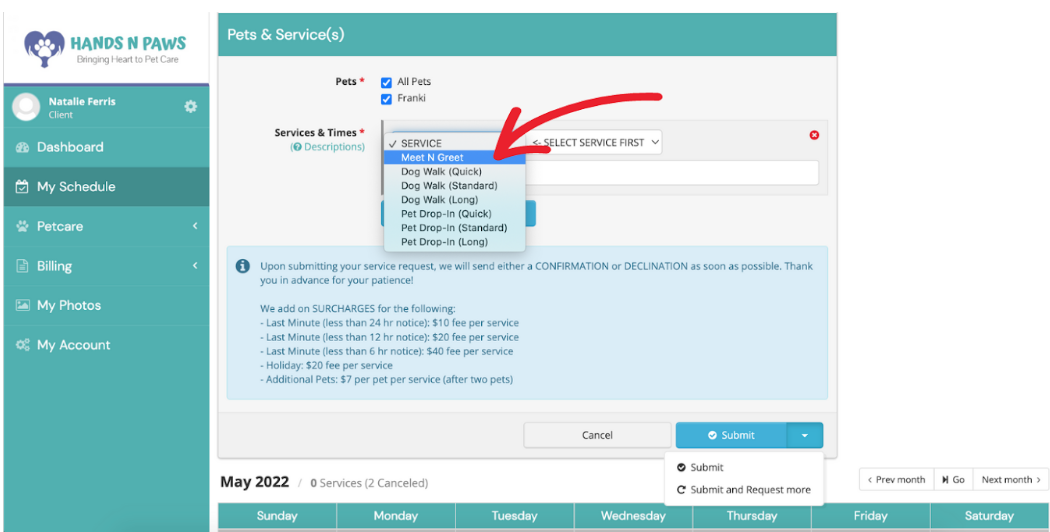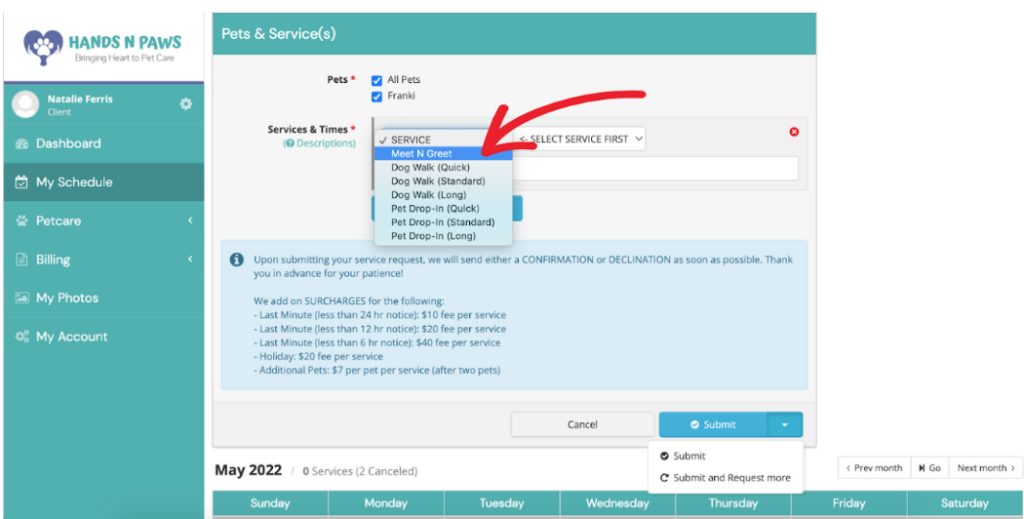 In the additional notes section below that, indicate why you are wanting to schedule a meet n greet with us (i.e. Ollie's medicine routine has changed and I want to show your team the changes in person).
Click Submit.
PLEASE NOTE: Additional meet n greets requested after the one FREE meet n greet (for new clients) are $50 each.
---
Is the person coming to my meet n greet also the person who will be taking care of my pets?
Not exactly… though, that could definitely be the person in the rotation of team members who come by to take care of your pet! Here at Hands N Paws, we take a team approach to working with our clients. This is so that you're not stuck relying on one person to be available to take care of your pet every time you need services.
Once the team member is done meeting with you, he/she will share all their notes to the rest of the team. This is so that we all have clarity on your pet's routine, so that we can provide the same delivery to you regardless of who comes to complete a service! Similarly, we all have checklists we must follow for the type of service we are assigned to complete. This is what guarantees consistency amongst team members!
---
Do I have to prepare anything for my meet n greet?
In short, nope! You're encouraged to check out our welcome email that's sent out immediately upon scheduling your meet n greet with us – that'll tell you everything you need to know! Other than that, just prepare for us to befriend your sweet fur baby at the actual meet n greet event!
---
What happens after my meet n greet?
After your meet n greet, we can officially begin working with your pets! You'll be able to access your client account where you can start scheduling services with us!
To learn more about your client account and how to navigate our app, please see App Support!