Jump to what you're looking for quicker by clicking on the question below!
---
How do I get started working with you?
When you've decided you're ready to work with us, click Get Started! Then, select a day and time on the calendar that works for you to have your FREE meet n greet with us (see Meet N Greets to learn more). Click Confirm. Then, fill out the form and click Schedule Event at the bottom of the page. After that, you'll receive a text confirmation along with a welcome email that details what to expect of the event.
---
What are your hours?
Pretty much 24/7! We offer daytime services (drop ins, walks, etc) usually between the hours of 7am and 10pm. We also offer overnight stays (we spend the night in YOUR home with YOUR pets) from around 10pm-7am (8-10 hr stay). We are even open on Federal holidays. Remember, this all depends on staff availability. If no one is available on schedule for a specific day, we are technically considered "closed" or "unavailable", though, that is very unlikely to happen!
Our office hours for client support (via phone and email) are Monday-Friday, 9am-5pm.
---
Are you insured and bonded?
Yes! We are a company who prides itself in being fully professional and accountable for the pets and pet parents we serve. We are covered by Pet Care Affiliates, one of the largest providers of insurance in the pet care industry.
---
Do you run background checks on your team?
Yes! We encourage everyone to complete background checks before they get started working with our clients. You can see proof of who has completed their individual background check by visiting our About page and locating the green shield checkmark icon

in the team member profiles.
---
Do you have an app?
We sure do! Our company app is called Precise Petcare. This is where clients can access their accounts all at the touch of their fingertips! If you are a client of Hands N Paws and have not downloaded our app yet, please click the appropriate button below to do so!
If you ever need any assistance with our app, please visit App Support!
---
What services do you offer?
We offer four types of services: Dog Walking, Pet Sitting, Cat Sitting, and Overnight Stays. Please navigate to each page to learn more!
---
Do you provide kennel/boarding services?
No. We are an in-home pet care company, meaning that we come to your home to care for your pet(s). We do not offer kennel or boarding services because we honestly believe that pets are happier and more comfortable being cared for in their own homes anyways.
---
Why do you only offer services in 2-hr time blocks?
We have lots of clients to take care of, and with that, will need ample time to get to your place to care for your pets! We work in 2-hour time frames, and that allows us time to take on multiple clients in similar/overlapping time frames as well as account for driving in between services.
Please note that the time blocks that we offer are for ARRIVAL TIMES. So, let's say you schedule a service for 3-5pm, the earliest the assigned pet care technician can arrive is 3pm and the latest he/she can arrive is 5pm.
---
How do I know when a team member has arrived to care for my pets?
You can see that the assigned team member has arrived by going to the My Schedule page and locating the service box. If the service box appears in blue, that means the team member is present. You can even see the time the team member arrived to the service along with a GPS map of his/her whereabouts in real-time!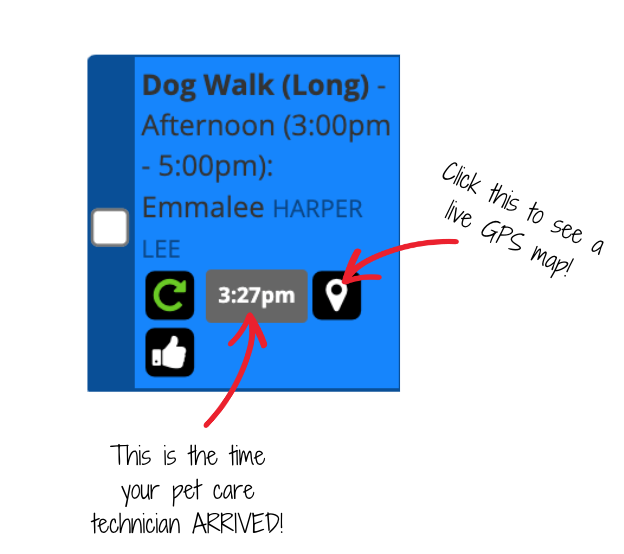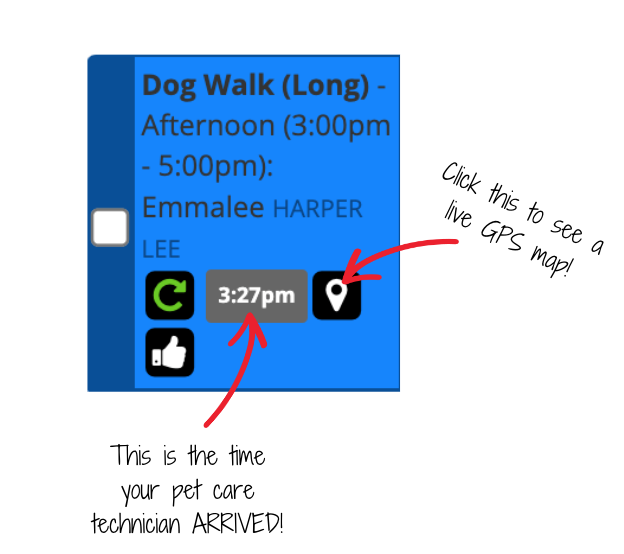 ---
How do I communicate with team members about my pets?
There are multiple ways in which you can communicate with our team!
If you have something that you wish to communicate regarding a single service (or set of services) on schedule, please use the service box notes feature in our app.
If you wish to communicate something that's pet related or related to your personal information that will apply to ALL future services, please kindly make updates to either your personal information or pet information in your client account!
Our team members are very adamant about checking for service box notes, as well as any and all updates a client makes to their personal and/or pet profiles (even for team members who have worked with you multiple times previously!).
Lastly, you can communicate with team members by leaving comments on journal reports they've submitted to you after completing services with your pets!
NOTE: We do not support the exchanging of phone numbers between clients and team members. Team members have work hours and we don't want work-related things getting intermingled with their personal lives. Precise Petcare is well-equipped to support any and all communications between team members and clients. If there is anything that's highly urgent that you wish to communicate, please call/text our office number at (614) 636-6644 and someone will assist you as quickly as possible (usually M-F 9am-5pm, but ASAP for more serious matters).
---
What are your additional fees for working together?
All new clients are required to purchase a lockbox before they begin working with us. To learn more about why we require lockboxes, please click here.
We also charge additional fees on services in the following circumstances:
Last Minute Service Request (less than 24 hr notice): $10 fee per service
Last Minute Service Request (less than 12 hr notice): $20 fee per service
Last Minute Service Request (less than 6 hr notice): $30 fee per service
Holiday Service Request (see list below): $20 fee per service
Additional Pets: $7 fee per pet per service (after first two pets)
Out-of-Service-Area Service Request: $10 fee per service
Essentially, if you want to avoid the first three fees listed, just make sure to schedule services with more than a day's notice. That way, we can make proper arrangements for coming to see your pets without having to scramble too much!
The holiday's in which we include a surcharge are:
New Year's Day
Easter
Memorial Day
Independence Day
Labor Day
Thanksgiving
Day After Thanksgiving
Christmas Eve
Christmas Day
New Year's Eve
The only other time you would be charged additional fees (though unlikely) is if team members are instructed to (or see the need to, with your approval first!) purchase items for pets while under company care, including but not limited to: pet food or treats (if run out!), litter or cleaning supplies, transportation to the vet and/or emergency expenses for general care and wellness of pets, and more. We will retain and share receipts with you as proof of purchase! You will then be charged ASAP for these additional items.
---
Why hasn't my usual team member been taking care of my pets lately?
Here at Hands N Paws, we work as a team to take care of our clients. This means that we don't normally assign a primary person to work with pets. If you've noticed that a single person has been caring for your pets for awhile, and now all of sudden there are different team members providing care, it's likely due to any or all of the following reasons:
Your "primary" care provider is taking time off from work, whether out sick, on vacation, or just because.
Your "primary" care provider is busy with other clients/pets.
We understand that it's NOT possible to guarantee that one single team member is available to work with certain clients at ALL times those clients need services. This is why we operate as a unit. Our team members are encouraged to follow our best practices for completing services, so that way we can deliver consistent services to the pets in our care.
Everyone at Hands N Paws is passionate about working with our clients as a whole, so whether you've got a single person or multiple people caring for your pets, we can promise that you'll be satisfied with the service quality. To learn more about our current team members (and the loving pet-people they are!), please visit our About page.
---
How do I give feedback on my experience with Hands N Paws?
We LOVE when we receive feedback from our clients, as it helps us to learn and grow! You can leave feedback in multiple ways, though the most impactful way is in the form of a Google review! To do that, please click here, select your rating (out of 5 stars), add any comments you may have, then click the blue Post button.
To leave a feedback on more specific aspects of your experience (our app, our client support, etc.), please click here.