Moving into a new living space can be both exciting and stressful. Whether you're moving into a house or a pet-friendly apartment in Columbus, Ohio, the new environment can work either for or against your pet's well-being. With a little preparation, however, you can almost guarantee your pet will be happy with wherever you're going to be living. It's just a matter of making sure your fur baby is comfortable and confident in their new surroundings.
Here are 5 ways to make your pup's transition to a new living environment as stress-free as possible.
1. Provide Extra Love and Attention
Moving can be a stressful and confusing time for dogs. Therefore, it's essential to provide extra attention and affection to help them feel secure. During this time, also try to spend as much quality time with your pup as possible. In between unboxing, go for walks, have some playtime, or just cuddle up on the couch together. If you're simply too busy settling into your new home, hire a dog walker to give your pet some one-on-one, undivided attention.
2. Stick to Your Dog's Regular Routine
Sticking to a consistent routine is crucial for dogs. This is especially true during a time of change such as moving to a new home. It is essential to keep feeding times, potty breaks, and walk schedules as close to their regular routine as possible. This will help your dog feel secure and comfortable in their new environment. Providing a sense of normalcy can also greatly reduce anxiety and stress in dogs.
In addition, sticking to their usual routine can help to establish a sense of stability in their new home. Consider making a schedule to help ensure that your dog's routine stays consistent. Make any necessary adjustments gradually over time. If your dog is used to regular visits from a dog walker, make sure to stick to that schedule as well! By doing so, you can help your furry friend feel confident and at ease in their new surroundings.
3. Create a Designated "Dog Space"
Designating a specific space for your dog can definitely help them with adjusting to their new environment. This "dog space" should be a place where your pet can retreat to for comfort and rest when they need it. It's essential to choose a space that is quiet and out of the way. Still, it should be easily accessible to your pet. For example, a cozy corner in the living room or a designated spot in the bedroom.
It's also important to make sure that your dog's "dog space" is accessible to them at all times. The space should be open and easy to get to, with no doors or barriers blocking their way.
Lastly, in order to make this designated space feel like home, consider filling it with familiar items from your old home. For example, toys, bedding, and/or favorite bones. You can also add some special touches to make the space even cozier, like a soft blanket, a cozy bed, or even a few treats.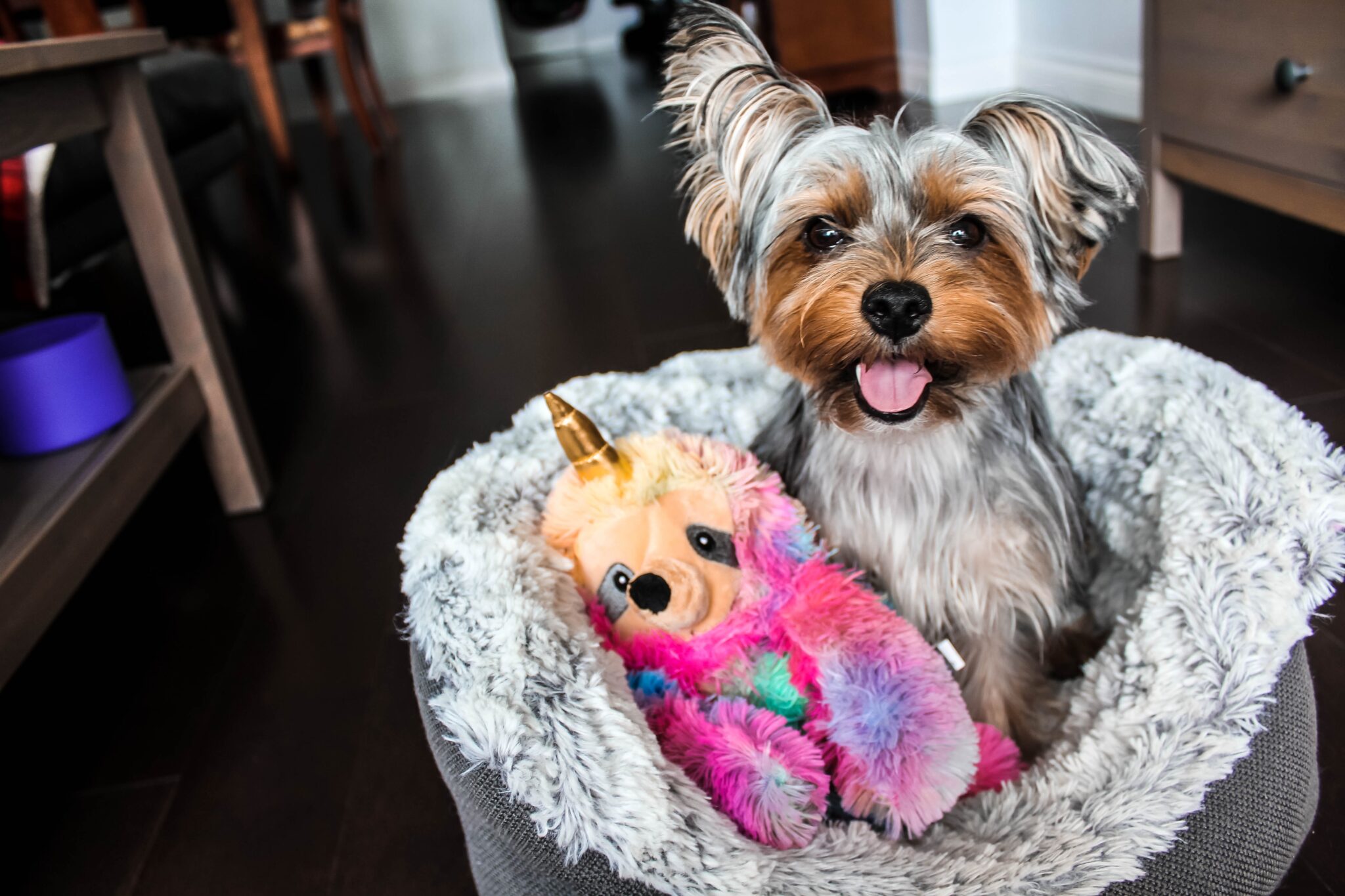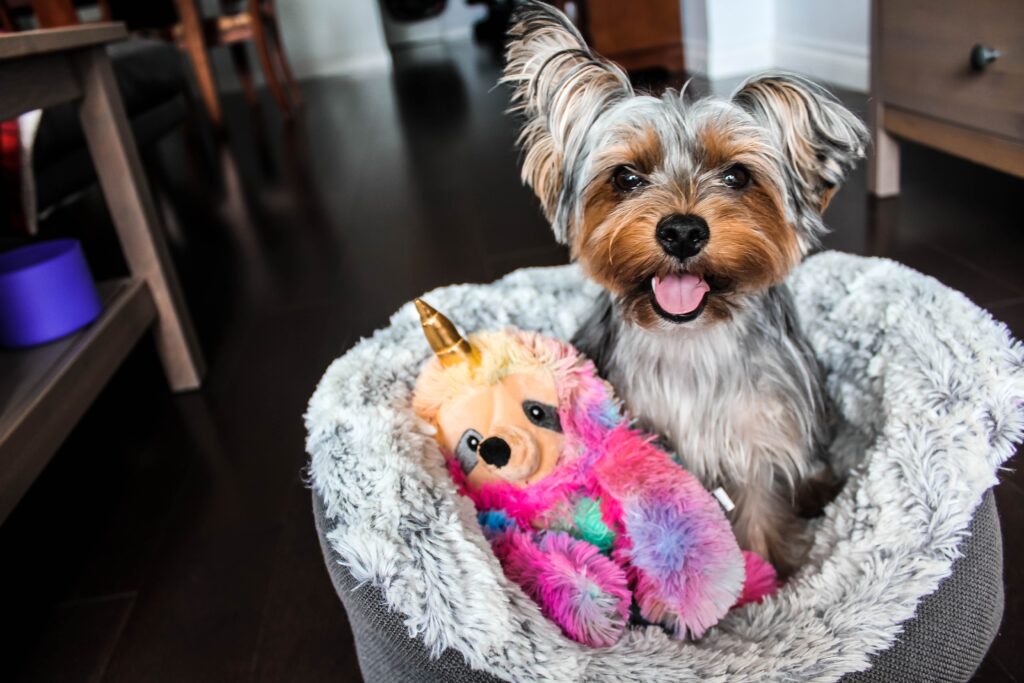 4. Encourage Exploration and Adventure with Treats and Praise
Rewarding your dog for exploring their new environment is a great way to help them feel comfortable and secure in their new surroundings. As your dog sniffs around and becomes familiar with their new space, be sure to reward them with treats and praise. This positive reinforcement will encourage your dog to continue exploring. It will also help them to build a positive association with their new home. Consider bringing along some of your dog's favorite toys or treat-dispensing puzzles. This encourages exploration in an interactive way. It can also test your pup's knowledge through mental stimulation, and overall help to keep them occupied during the move.
5. Bring Along Familiar Items
As already mentioned, when moving to a new environment, it's helpful to bring along familiar items for your dog. This can play a big role in easing their transition as they'll associate these items with comfort and security. Have them readily available once you arrive to your new place. That way, your pet can start getting used to their new surroundings with an established sense of familiarity.
Find Your Perfect Pet-Friendly Home in Columbus, Ohio
If you're looking for pet-friendly living spaces in Columbus, Ohio, look no further than Thrive Companies. Thrive (for short) is a leading property management company in Columbus, Ohio that offers a variety of pet-friendly apartments, townhomes, and condos to choose from.
They have a commitment to providing comfortable and stress-free living spaces for both their human and furry residents. Recently, Thrive has joined forces with Hands N Paws to offer exclusive dog walking and pet sitting services to the pet parents at Thrive communities.
Thrive understands the importance of making a new environment feel like home for your fur baby right off the bat. Together, Thrive Companies and Hands N Paws are dedicated to making the move-in process and overall living experience truly remarkable for all pups and their parents.
Making Your Dog's Move to a New Home a Success
In conclusion, moving to a new home with your pup can be a stressful and overwhelming experience. But with a little extra effort and planning, it can be as stress-free as possible for your pet. The 5 steps detailed above can absolutely help your dog feel most comfortable and secure in their new surroundings.
If you need help caring for your pet during the move, consider hiring a dog walker in Columbus, Ohio, courtesy of Hands N Paws. Our commitment to providing top-quality care and services will have you feeling appreciative of the extra help as you settle into your new place.