What is the Columbus Pet Expo?
The Columbus Pet Expo is a three-day event celebrating all things furry, fluffy, and feathery. This year's event will be held at the Ohio Expo Center from March 10th thru the 12th. The expo is designed to bring together pet lovers, pet vendors, and pet experts from all over Columbus and beyond. Whether you're a pet parent, a pet enthusiast, or a pet sitter in Columbus, the 2023 Columbus Pet Expo has something for everyone!
What's happening at the 2023 Columbus Pet Expo?
The Columbus Pet Expo will be jam-packed with exciting activities, events, and exhibits. It will feature a variety of pet vendors selling everything from food to toys to clothing, as well as exhibits showcasing the talents of furry friends and pet experts from around the area. Additionally, the event will have adoptable pets from local shelters and rescues for those interested in adding a new furry friend to their family.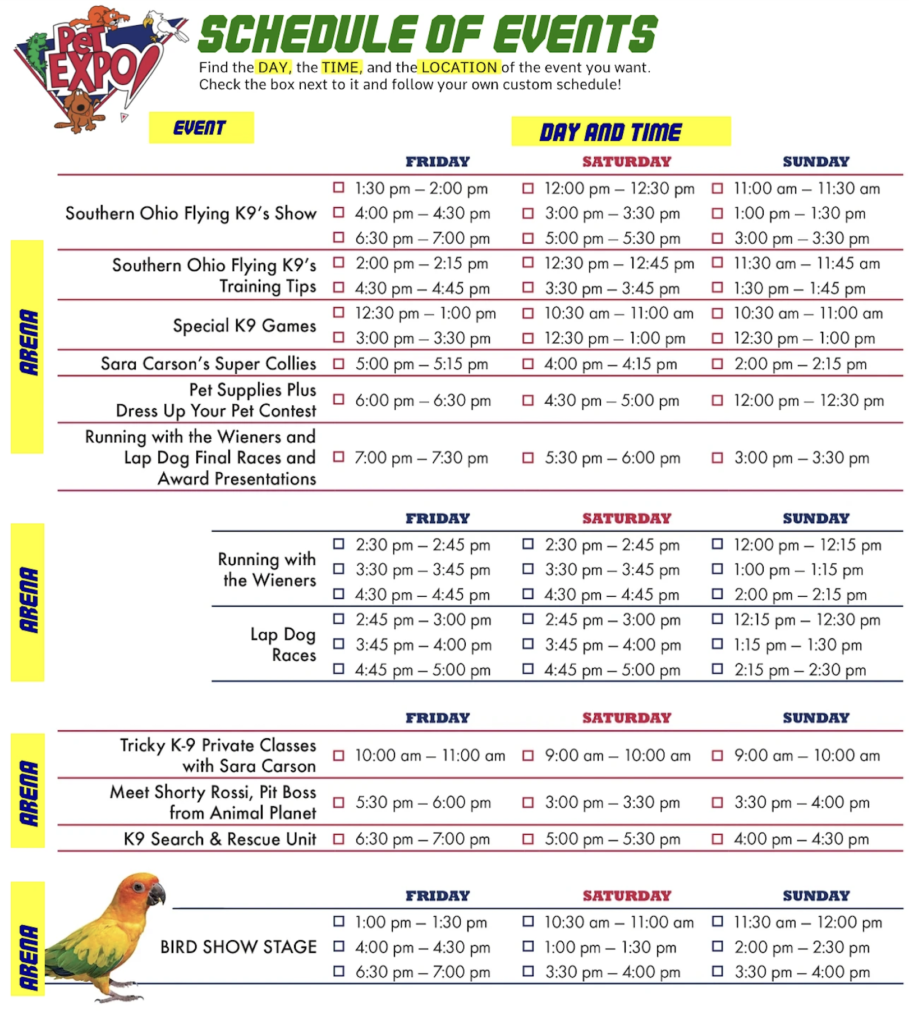 Courses & Contests
– K9 Class Package Hosted by Sara Carson
Don't miss the Tricky K9s workshop at this year's Columbus Pet Expo, hosted by celebrity dog trainer Sara Carson. In this one-hour workshop, you and your furry friend can learn several novice and advanced level tricks, including handstand, backwards circles, and leg weaves. The workshop package includes a personally autographed copy of Sara Carson's book, Super Dog Tricks. It also includes one adult 3-day pass to the All American Pet Expo, special parking, and a t-shirt. The package costs $99 while spots last and is non-refundable. Only 10 spots are available each day.
– Dress Up Your Pet Contest
The 2023 Columbus Pet Expo will be hosting its 26th Annual "Dress Up Your Pet Contest" each day of the event. It's open to all types of pets, including dogs, cats, rabbits, guinea pigs, hamsters, birds, reptiles, and llamas. Participants can enter online or 30 minutes prior to the contest. Winners will be determined by the applause of the audience, measured by a professional sound monitoring device. The prizes will be in the form of gift certificates, with 3rd place receiving $25 and a ribbon, 2nd place receiving $50 and a ribbon, and 1st place receiving $100 and a trophy. The contest will be held at specific times each day in the main arena. Participants are encouraged to invite friends and relatives for support, dress up with their pets, pre-register, and be a good sport regardless of the outcome.
– Wiener Dog Races
The Columbus Pet Expo is set to host two races that will surely get tails wagging- Racing with the Wieners and Lap Dog Races. Exciting preliminary heats will be held daily, and the victorious pups will compete in the finals at the main arena. A hotdog costume will be provided for the Dachshunds to wear in the Racing with the Wieners. Lap Dogs will race in their natural costumes. Only pups that are at least 6″ tall but no taller than 14″, weighing between 4lbs and 14lbs, can join the Lap Dog Races. All breeds that meet these qualifications are welcome. The first dog to cross the finish line will be crowned the winner. In case the winner can't make it to the daily finals, the runner-up will take their place. Races are free to join, but pet owners can only enter one dog per race. Click here to sign up online!
– 1 Year of FREE Pet Food
The Columbus Pet Expo is holding a raffle for a chance to win free pet food of your choice for an entire year! Click here to enter online. The contest ends on March 12th, 2023 at 3:59 pm. The lucky winner will be announced at 4 pm in the Main Arena at The Ohio Expo Center & State Fair, and you don't need to be present to claim your prize. Remember, there is no purchase necessary to enter this fantastic contest. Just imagine the convenience and savings of not having to worry about purchasing pet food for an entire year. Don't miss your chance to win!
Entertainment
– All About Cats Expo
The All About Cats Expo will take place over three days from March 10th to March 12th, 2023. It will be held at the Ohio Building on the Ohio Expo Center grounds. This TICA officially judged event will feature 7 judging rings with seating for the public in front of each ring, with over 200 cats competing for ribbons. With Dr. Elsey as host, this exhibit will feature up to 60 breeds, including house-cats, and vendors with numerous products for cats. Attendees can also find cat rescue groups with adoptable cats.
– Dock Diving Dogs
Get ready to see some amazing jumps at the Columbus Pet Expo's Dock Diving for Dogs attraction! This fast-growing sport is open to all breeds and sizes, and titles earned are eligible for the AKC Title Recognition Program. Whether you're a seasoned pro or just looking to try something new with your furry friend, the Dock Diving competition is the perfect opportunity to compete for your titles or try out the sport with the help of experienced trainers. Don't miss out on the fun and excitement of this thrilling event! Click here to learn more and/or register!
– Pet Actor Auditions
Are you looking for your pet to be the next big animal star? Look no further than the pet auditions attraction at this year's Columbus Pet Expo! Hosted by Pawsitively Famous, a company that provides exceptional animal talent for various projects. They'll give you the opportunity to showcase your pet's unique talents and possibly even land them a job in the entertainment industry. With a wide network of trainers and a database of over 3,000 animals, Pawsitively Famous has the resources to find the perfect animal for any project. Plus, their private Facebook community of over 2,700 members and large social media presence of 15,000+ followers is a valuable asset for casting. Don't miss this chance to show off your furry friend's skills and potentially launch their career in the spotlight!
– Kids World
Experience endless entertainment for your kids at Kid's World in the Columbus Pet Expo! Cool Cat Sites Entertainment brings in Bouncers, Slides, and more. Texas Roadhouse sponsors the area and offers FREE KIDS MEALS with an $8 ALL PLAY WRISTBAND purchase, along with FREE adult apps. There are educational talks, such as Reptile Adventures and Pork Chop Revue and friends, and gem search. Kids can interact with friendly animals, including llamas, rabbits, horses, and goats, and enjoy eight brand new bouncers. Face painting and a craft area are also available. Let your kids' creativity soar and get your tickets now!
Attending the 2023 Columbus Pet Expo
Attending the Columbus Pet Expo is an excellent opportunity to connect with other pet lovers, learn about the latest pet products and services, and gain valuable insights into pet care. You'll leave the event feeling more confident in your ability to provide your fur babies with the care and attention they need.
As a pet parent, you already know how important it is to provide your fur kids with the best possible care. At Hands N Paws, we understand this too, which is why we offer professional dog walking and pet sitting services in Columbus, Ohio. Our team will likely be in attendance, browsing the different attractions and loving on the pets. Please say hi if you see us!