Spring is here! It's time to get your outdoor pets ready for longer walks, trips to the park, and plenty of time in the sun!
While exciting, this seasonal transition from cold to warm weather can pose risks like allergies, fleas, ticks, and exposure to unsafe plants and chemicals.
Here's 5 pet care tips you can implement this spring season to ensure your pet is happy and healthy at all times!
Tip #1: Allergy Prevention Measures
Springtime means blooming flowers and trees, which can trigger allergies in pets just like in us humans. While you can't control the environment at large, you can control where and when you decide to walk your dog. You can also be proactive about managing your internal, home environment.
Overall, keep an eye out for excessive scratching, sneezing, or coughing in your pet. If you suspect your pet has serious allergies, consult your veterinarian for treatment options. Your vet will likely prescribe antihistamines, mild steroids, and/or even dietary supplements to help combat those nasty allergens. You may also consider a more natural approach – continue reading to learn about our secret home remedy!
Stick to sidewalks, pavement, and walking at optimal times of the day
If possible, avoid coming into contact with a lot of grass, trees, and flowers, where pollen typically resides. Also, avoid walking your dog in the early morning or late afternoon, when pollen levels are typically highest. Thank goodness, though by coincidence, our pet parents usually schedule our dog walkers in Columbus, Ohio to come by in the mid-afternoon!
Curate your home environment
While most of the outside environment is out of your control, there are things you can do to make your internal, home environment more comfortable for your allergy-prone pet:
Regularly change air filters to cut down on airborne allergens that enter through open doors and windows. It is recommended that you change your air filter about every 60 days if you or your pet suffer from severe allergies. Consult a local expert if you are not sure what air filter is right for your home.
Run an air conditioner or a dehumidifier to remove moisture from interior air. This makes it harder for mold to grow in your home.
Regularly vacuum or wash areas that can easily carry allergens. This includes carpets, bedding, pet beds, and toys. Pollen tends to stick to fabrics, so make sure you are washing those materials regularly, too.
Wipe paws, underbellies and if possible, provide more baths!
When you return from being outside with your pet, wipe their body and paws with a cool, moist cloth or a hypoallergenic, fragrance-free grooming wipe from your local pet store. This will remove the extra pollen and other allergens from your pup's fur and skin. Of course, grooming wipes can't replace the glorious magic of a good bath, but they get the job done if you don't have time for a bath after every walk and game of fetch.
If you do have the time, it's always a good idea to treat your pup to a bath. Regular bathing is healthy for your pup's fur and skin. It's also a good way to increase the bond between you and pet. Make sure you're using pet-friendly shampoos and products in order to best maximize the benefits of regular bathing.
Tip #2: Protect against fleas, ticks, and bugs
As the temperature rises, the likelihood of fleas and ticks also increases. These pesky parasites can cause a range of problems for your pet, including itching, discomfort, and even serious illnesses like Lyme disease. To protect your pet against fleas and ticks, it's essential to use the right preventative measures. This could include topical treatments, collars, or oral medications that are designed to repel or kill fleas and ticks.
If you prefer a more natural approach, you can also try using essential oils, such as lavender or peppermint, to repel these parasites. However, it's important to do your research and consult with your vet before using any natural remedies, as some essential oils can be harmful to pets.
In addition to preventative measures, it's also important to regularly check your pet for pests. Especially after time spent outdoors. Look for any bites, itching, or small black or brown spots on your pet's skin. Consult your vet accordingly.
Tip #3: Update shots, vaccinations, and consider a microchip procedure
More time spent outside means more opportunities for your fur baby to wander off and meet new friends. While we all love to witness a sweet animal friendship, it's important to take precautions to make sure your pet stays safe. They can easily contract illnesses from contact with other animals outside. It's important to ensure all parties involved are up-to-date on shots and vaccinations.
We also recommend making sure your dog is microchipped and has an ID tag. A dog's instinct is to wander and explore everything in their surroundings while outdoors. This could potentially lead to them going missing. In the event that your pet does get lost, a microchip greatly increases their chances of being reunited with you. It's a quick and painless procedure that can give you peace of mind and keep your furry friend totally safe.
Tip #4: Reduce exposure to unsafe cleaning products
As the weather gets warmer and you begin to open your windows and clean out your junk drawers, double check that your cleaning products are pet-friendly. If they are not, keep them hidden in a secure location, away from your pet!
Almost all cleaning products, even all-natural ones, contain chemicals that may be harmful to pets. The key to using them safely is to read and follow the directions on the labels. There is likely a pet protocol included on the back of these products.
Better yet, you might just consider investing in pet-friendly products only. That's our best recommendation!
Spring is also a popular time of year for home-improvement projects. If you happen to be completing one that involves the use of hazardous products ranging from paint to power tools, try to keep your pup in a safe location away from all harmful materials. Keep them in a separate room, their kennel, or better yet just sign up for our dog walking services in Columbus, Ohio while you get those spring to-do's accomplished!
Tip #5: Keep a safe yard
Spring gardening can be a fun and rewarding activity for both humans and pets! To ensure maximum safety, it's essential to choose pet-friendly plants. Some common flowers and shrubs, such as tulips, daffodils, and azaleas, can be toxic to pets if ingested. It's best to do some research or consult with your veterinarian to determine which plants are safest for your pets.
In addition to selecting pet-friendly plants, it's crucial to keep your yard free of fungi. Some fungi, such as mushrooms, can be fatal if ingested by dogs. Keep an eye on your yard and remove any mushrooms or fungi immediately.
When using fertilizers, make sure to follow the pet safety instructions on the package. Chemicals in fertilizers can be very toxic to dogs, so it's best to store them in a safe area, just like your home cleaning products. Consider using organic and natural fertilizers that are safe for pets and the environment.
Bonus Tip: Hire a dog walker!
You can truly take advantage of the warmer temps by hiring Hands N Paws for regular dog walking services in Columbus, Ohio! This will ensure your pup is getting consistent exercise, socialization, and mental stimulation. Additionally, spring is a great time to introduce new toys, puzzles, and outdoor activities like agility training, fetch, and exploring new parks and trails. There are many things you can do to improve your pup's health and wellness, and the spring season is the perfect time to get started!
At-Home Hacks for Springtime Pet Care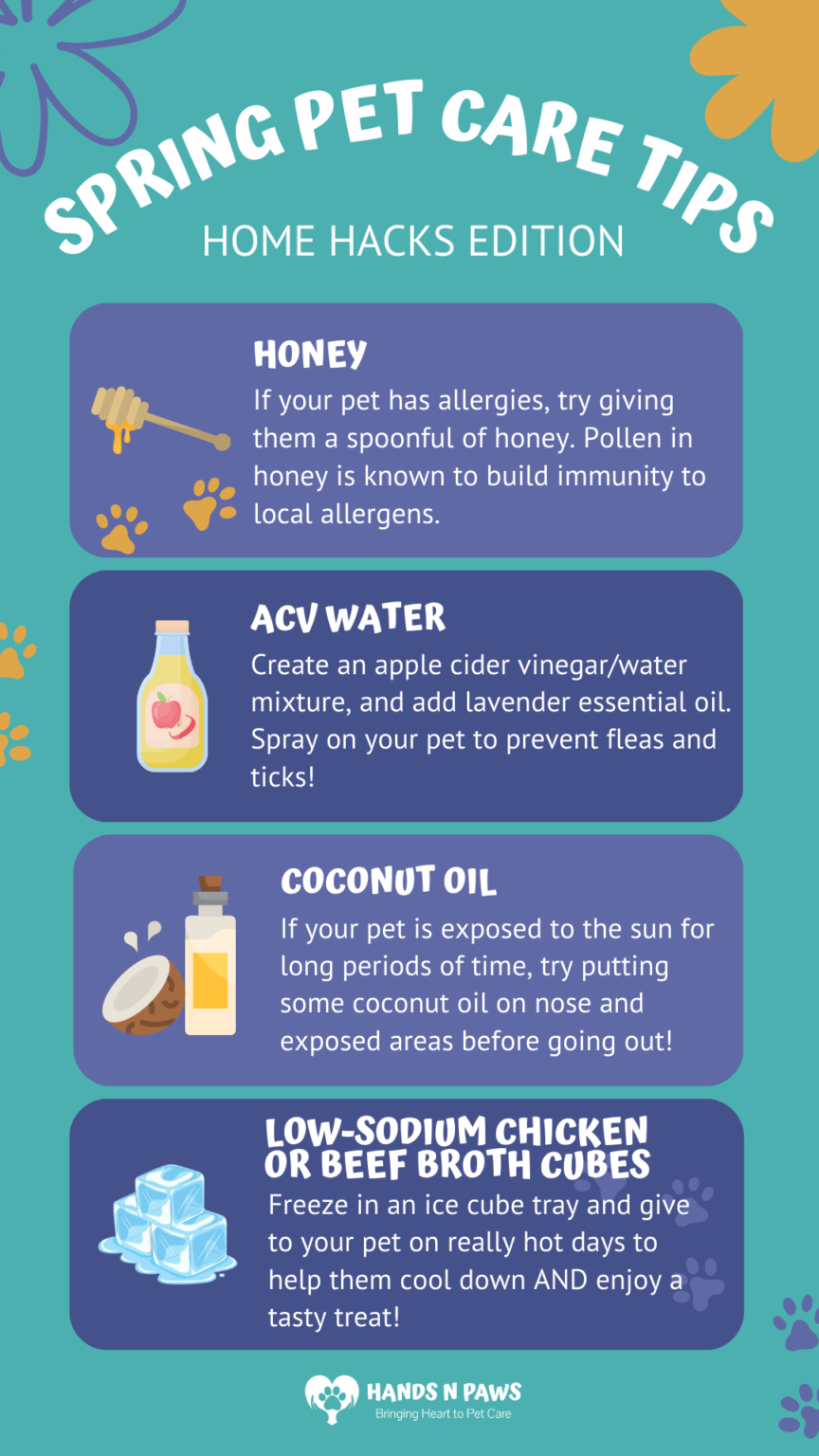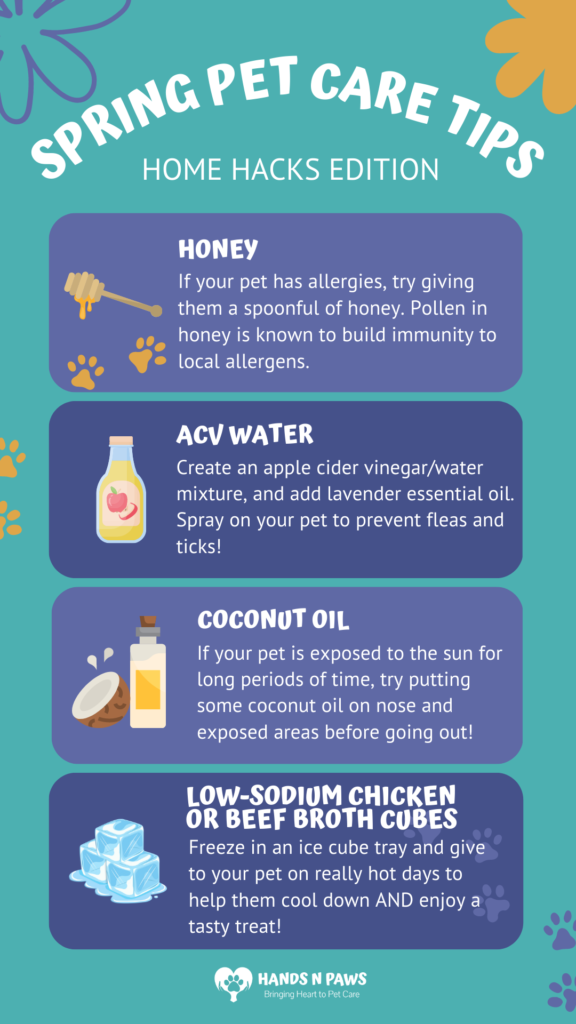 Embrace Springtime in Columbus, Ohio to the Fullest!
Springtime and warmer weather can bring a sense of excitement and rejuvenation for people. As the snow melts away and flowers begin to bloom, it's a reminder that new beginnings are possible. The sunnier days mean more time spent outside, whether it's spent gardening, hiking, or simply lounging in the backyard.
For pet parents, warmer weather means more opportunities to spend quality time with their furry friends, exploring new parks and trails or simply soaking up the sunshine on a leisurely stroll. Spring also comes with its own set of challenges for pet parents, such as allergies, fleas and ticks, and keeping pets safe during outdoor activities. Don't forget to incorporate the tips mentioned above so that you can ensure your pet stays happy and healthy this spring season!
Disclaimer: This blog article includes are our best suggestions to help you prepare for spring weather as it relates to your pet's health and wellness. Please note that we are not medical professionals.